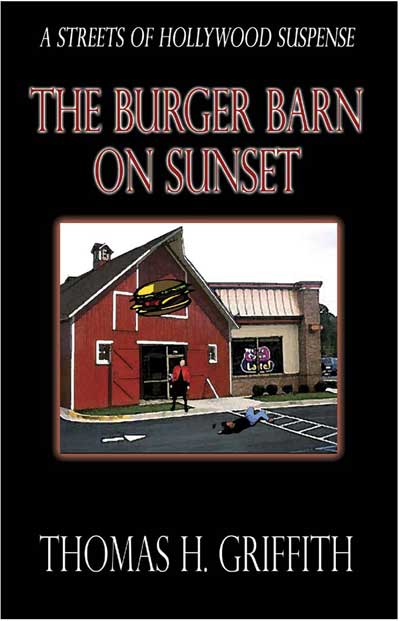 Review by http://www.myshelf.com/
Ron Jobeman's first day as manager of the Burger Barn is marred by a drug bust. One of the workers pulls a gun and the police retaliate, killing him. The police inform Ron that this is the sixth drug bust at this restaurant in the past four months. If there is another one, they are going to shut it down. What a way to start a new job! Welcome to Hollywood.

Ron is a former pastor. When his wife divorced him, the church let him go. In a matter of days, he had lost his wife, his job, and most of his friends. God turned his back on Ron and Ron returned the favor.

When his old friend, Max, asks him to manage the Burger Barn on Sunset Boulevard, Ron is eager to help. He takes the job in order to make ends meet. He finds that not only is he good at it, he enjoys it too.

Ron asks Max why he had sent him into such a bad situation. Max explains that the last manager had left with no notice after only 4 days. The store is also constantly losing money. And then there's the drug situation. Worried about being fired, Max gives Ron carte blanche to fix the restaurant.

Ron has some innovative ideas for increasing revenue, but his main focus is on stopping the drug traffic. As he struggles with these two problems, he stumbles across a small church. The pastor, Eldon Humphries is so welcoming that Ron finds his anger with God beginning to cool. Eldon introduces Ron to Janet, a woman who's also been mad at God. She's training to be a private investigator and is able to help him with drug busting ideas. As they find their way back to God, they begin to fall in love.

This story is interesting and the characters are enjoyable. God's love is vividly demonstrated by Reverend Humphries. Everyone should be lucky enough to have a pastor like him. This book has mystery, romance and an inspirational storyline. It's a very good book.
Review by Anne K. Edwards of Murder and Mayhem Bookclub.com
[The Burger Barn on Sunset is] a fun read written from a unique perspective. A blurring of the genre lines that will satisfy a mystery or romance reader or both.
Ron Jobeman has been forced to begin a new life after losing his parish and wife. He has landed in Hollywood, California as the new manager of the Burger Barn on Sunset.
And so begins a phase of his life he'd never have believed until he lived through it. He found himself in charge of a fast-food restaurant that was known by the police to be pushing drugs.
After the death of one of his employees and the arrest of others for pushing, Ron decides to take a hand in cleaning up the mess. It is then he finds more than one purpose in his new life.
An intriguing read by a talented storyteller gives the reader a view from behind the counter of the fast-food business. Realistic characters seem ready to step off the page as they move through a well-plotted story that will keep you reading.
Enjoy.
The Burger Barn on Sunset is now available in Paperback!
Reviewed by Joyce Crane of Dallas, Texas
Come to the Burger Barn for a hamburger, fries, soft drink, and maybe some drugs on the side. The Burger Barn, located on Sunset Boulevard in Hollywood, is troubled by drug dealers, police investigations, and assorted acts of mayhem. Ron Jobeman, the new manager, has the job of building sales and tracking down the source of the drugs while trying to keep peace with a cop who distrusts him.
The mystery is quite good, well planned and well drawn out. Ron turns out to have a flair for criminal investigation. As you follow Ron's attempts to trail the drug supply chain into the upper levels of the Burger Barn's chain management, you come to respect him and care about what will happen to him.
If this sounds like a fairly routine mystery, think again. Ron is a Protestant minister whose life fell apart when his wife deserted him, his church fired him, and his calling to the ministry seemed to disappear. By the book's end, he has joined a church for the first time since losing his congregation and met a woman he is attracted to. Will he solve the mystery? Will he propose to the woman? And will he ever preach again?
Readers may wonder if there will be a lot of preaching in this. There's a little, but it is done in the name of character development. It is not out of place, and it doesn't intrude on your reading pleasure.
A warning...if you like major surprises, this book holds few of them in the end. The villain's place in the corporation if fairly obvious; only his name is a surprise. And if you're familiar with the Biblical tale of Job, and notice that Ron is named after him, you know how things will turn out for him by the end of the story.
This book is a fine read, compelling you to turn one page after another. The characters are likable, the mystery is solid, and Ron's investigation takes him through corporate policies and procedures which are believable. If you like good mysteries, love stories or romantic suspense novels, you will no doubt like this book. Those who work in the fast food industry or who wonder about how this industry operates will also enjoy it.
This debut is by an author who is a minister himself. The first of a new series, it is available in hardcover and as an e-book. It's a good debut, supported by interesting characters and good research. I look forward to more!
Review by Marilyn Meredith, author of the Tempe Crabtree series of mystery novels
I was truly impressed with this book. It's definitely not a cookie cutter mystery.
The hero is the manager of a fast food place called the burger barn and a
disenchanted minister. The plot evolves around a most unusual distribution
of drugs--and how the hero discovers what is going on.
Even more interesting is how the hero comes to terms with what has happened in his life and how he embraces the future. This is truly an enjoyable read.
Review by Mary Axford at http://www.reviewingtheevidence.com
The publicity information for THE BURGER BARN ON SUNSET calls it a "male romantic suspense novel of faith", which fits pretty well, as long as male refers to the author and not the intended audience. This is a book that can be enjoyed by women as well as men.
Ron Jobeman was a minister until his wife left him for another man and his church fired him for being too liberal. He then turned his back on the church and started working for the Burger Barn fast food chain, working his way up to manager. As the novel starts, Ron is suddenly transferred to the Burger Barn on Sunset Boulevard in Hollywood. It has been losing money and has had employees arrested for selling drugs. On Ron's first full day the police raid the restaurant and kill one employee in a shoot-out.
Ron tries to figure out where the drugs are coming from so he can prevent the police from shutting him down. Meanwhile he finds a church he likes, and through the church meets a woman private investigator, Janet, with whom he becomes romantically involved. Janet helps his once-shattered self-esteem as well as helps find out information on the drug case.
Griffith has great start to a new mystery series in THE BURGER BARN ON SUNSET. His writing style is solid. His characters are multi-dimensional and real. He deals with issues of the Christian faith without ever being preachy. The plot works well. All-in-all, a recommended book for which Griffith is to be congratulated.
Reviewed by Mary A. Axford, January 2004
(Copied by permission from Barbara Franchi at www.reviewingtheevidence.com)